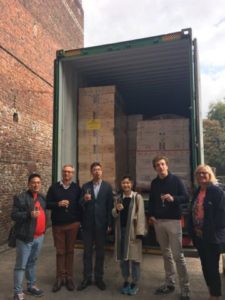 Wine Palette, Exporter of French wines from multi-regions.
Our goal consists of offering high-quality wine with an attractive price to importers worldwide. We're always trying to improve our related services in order to meet every customer's specific needs.
It's an honor to learn how our loyal clients think about us. And today, we would like to share a testimony from one of our customers overseas.
Jeff, Business Partner in Guangzhou, China
"I would like to express in few words about what we think of the value that Wine Palette can bring to us!
– You have a large range of wines and alcohol at different price levels. This can meet different demands from clients.
– Usually, your selection of wines has a certain quality level, which is better than other suppliers in the market. Of course, thanks for the experienced Wine-Selector from your historical wine house Cuvelier & Fauvarque.
– You are strong in the sourcing of wines in France.
We have the complete satisfaction of dealing with you because the strategy of our company consists of working only with real wine, no additional change for the Chinese market, original products, and a competitive price!  You provide great products and always have the initiative to find the best offer that we need!
Finally, you are able to propose the OEM service or private label to your clients. It could be a good business and there is a big potential all over the world."
Thanks, Jeff!
Our team will help you to realize your project of wines import to your country.
Do not hesitate to contact us!