1.Starting with Frost, 
potential disasters have happened during these two nights.
Between the 6th and 7th of April, French wine productors used fire to protect their vineyards against the cold and the frost
They used several methods, at different costs: candles, tea, warm cables, helicopters flying low over vines to move hot air around in a desperate attempt to save their vines …
Although we are confident, it is difficult today to measure the true damages caused. We need to wait for the harvest season, which will start around the end of August.
Today, experts say that 80% of French vineyards have been impacted by these weather conditions.
Most of the wine-producing region in France has been affected. Only Alsace, parts of Champagne and the Cognac region have been spared.
"I think that we are strong enough to get through this crisis thanks to the solid culture of wine in France and its favorable image overseas," Christophe Chateau said, who represents winemakers and wine merchants in the Bordeaux region.
After a tough beginning of April, the end of the month welcomes the annual "primeur" season – a time to taste the new Bordeaux wines of the year.
2.Ending with the 2020 Bordeaux primeurs, surprising vintage ! 
What is buying wine en"primeur" ?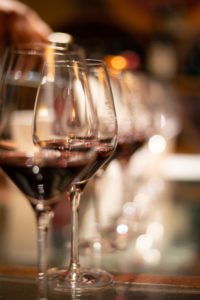 Quick reminder, buying wine "en primeur" means to taste and buy wines whose harvests happened the year before directly from the winery and receive them months after, after wine maturation.
The annual tasting allows wine experts to discover the last production from the barrels.
The Chateaux offer some of their production at a lower price than the final bottled product that will be sold to the public.
Two years ago, before the Covid crisis, people working in the wine sector were traveling all around the Bordeaux region for days in a row to taste as many wines as possible.
Nowadays, there are several tastings organized during the last week of April not only based in Bordeaux and in France, but also happening in major cities around the World.
Our recommendation after tasting:
 We would like to define wines from Right bank as consistent wines whereas left bank wines are more uneven.
Right bank (Rive Droite)
 We enjoyed all origins.
Our recommandation:
Saint Émilion

La Gaffeliere Valandraud 

Pomerol

Rouget, La Pointe
Left bank (Rive Gauche) 
Our recommandation
Margaux – we appreciated every wine we tasted ,

Cantenac brown, Kirwan, Dauzac, Lascombes

Pauillac- these are powerful wines , 

Batailley Lynch Moussas Pichon Longueville

Saint Julien – these wines are fruity and concentrated, 

Gloria, Saint Pierre, Langoa 
Some wines from other origins in the region didn't express themself much (Saint Esthèphe, Haut Medoc…), and it is difficult to have a relevant opinion today. They will have to be tasted again once they are bottled.
Don't hesitate to ask if you have any questions about Primeur wines.
Keep in mind that the 2020 vintage is promising and that the Primeur market is a beautiful opportunity to discover wines differently.