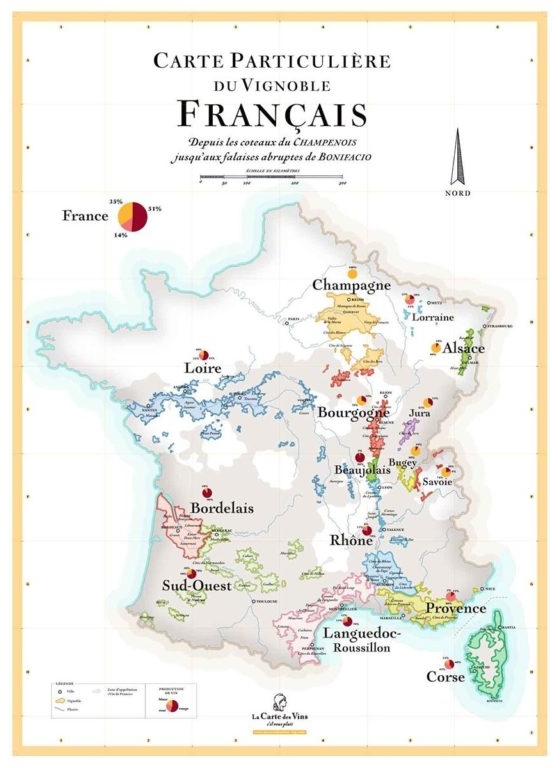 Ah ! La France ! Hugo Grotius [Dutch jurist] said: "France is the most beautiful kingdom after the kingdom of heaven" and if you ask us, we will tell you that he was obviously right (yes, we voluntarily chose a positive quote). 
Have you ever visited France ? If not, we highly recommend it !
And since you are interested in wine, today we are talking about wine tourism in France. Are you interested ? Everything happens below !
                France is the most touristic country in the world, with an uninterrupted flow of visitors throughout the year. With 89 million international tourist arrivals in 2017, Paris the capital (not surprisingly) ranks 1st among the most visited cities, followed by Lille, Bordeaux, Nice, Strasbourg… 
As you have just noticed, and as you have read the title, there is not only Paris to visit in France. Of course this city and its monuments are very important to us, but from North to South and from East to West, France is much more than that! 
Here, we are obviously talking about wine, and in this article we will talk more particularly about wine tourism, that is to say tourist activities related to wine ! Maybe you will find your future vacations in this article ? We hope so !
Wine tourism, first of all what is it ?
Wine tourism is the result of the two most beautiful passions of the French: Wine and rural heritage. If you are a wine lover, you will have the opportunity during a wine tourism stay to visit magnificent wine estates, discover ancestral production methods and have a privileged exchange with the wine growers. 
Offering more than 3,000 different wines in 66 departments including 16 great vineyards (Alsace, Bordeaux, Beaujolais, Burgundy, Bugey, Champagne, Corsica, Jura, Languedoc, Lorraine, Loire, Provence, Roussillon, Rhone, Savoy, South-West), France is definitely the land of wine, and whether you are an amateur or an expert, you are bound to find something to your liking in our vineyards and wine-growing landscapes ! 
Speaking of your happiness in terms of wine, there are 4 types of wine tourists in French vineyards : 
. 40% "epicureans" : Travelers coming mostly to taste, buy wine and visit the cellars where the magic happens ! 
. 24 % of "classic" visitors : Less adept at staying in wine regions, the discovery of wine tourism activities is part of the discovery of the heritage of a region, but not exclusively. 
. 20 % of explorers : For them, wines and vineyards are like treasure hunts, they look for secrets, mysteries and unknown addresses ! 
. 16% experts : They have made it their passion, or their job. The experts relax… with wine ! They come to discover the history and culture of a region, but also and above all to immerse themselves in the whole world of wine in France. 
And you, what type of wine tourist are you or do you think you are? 
This sector still attracts a majority of French tourists (no surprise, we love wine too much) at 52% in 2020, and therefore 48% of foreign tourists. The share of foreign wine tourists has increased dramatically: +40% since 2009 ! 
Here are the Top 3 nationalities of wine tourists in France : 
. Belgium – 27% . 
. United Kingdom – 21% . 
. Germany – 15 % . 
We challenge you to come and represent your country in our wineries and vineyards this summer !
What are the most original wine tourism activities in France ?
You are not particularly interested in the classic discovery activities, you want to have fun or discover the world of the vine in a playful way? 
Well, hang on, because French winegrowers are very inventive ! 
. An escape game in the vineyards 
No more classic hike in the vineyards under a dull heat! The winegrowers of the Domaine Couly in Chinon, have obviously found a very original trick to mix visit, discovery and tasting! 
Indeed, to discover the Domaine, you will have to solve puzzles and enigmas in Bertrand Couly's personal cellars, full of stories and treasures…
During one hour maximum, with a team of 3 to 8 players, you will rack your brains in order to solve enigmas reputedly… impossible to solve. And yes, if you like landscapes, insurmountable challenges and above all, wine, this trip is made for you! 
. A night in a barrel 
You read correctly, this is indeed what the Domaine du Rocher des Dames, in Beaumes-de-Venise in the Rhône, offers. A night in the middle of 22 hectares of vineyards, in a cosy and hushed atmosphere. The Domaine also offers you a tasting of the Château's wines! 
. A dinner 55 meters above ground 
Would you like to discover wine and food pairings in slightly unusual conditions? For example, suspended 55 meters above the ground? It is possible! 
The Cave de Tain, a historical actor of the wine production in the Rhone Valley, offers a more than original experience to learn more about the prestigious appellations of the region; Crozes Hermitage, Saint-Joseph, Cornage… 
A tasting… of the highest level !  
. A tasting in an atomic Shelter 
Do you want to taste great wines and their aromas in an atomic bunker from the Cold War? Because it is possible! Developed by Edouard Miailhe, whose father himself built this shelter during the Cold War, this unusual concept offers you the opportunity to taste exceptional wines, the oldest of which dates back to 1912, at a depth of more than 6 meters! If you're curious, Château Siran Margaux is the place to be ! 
. A ride in the vineyards, in a limousine 
Do you like rhinestones and glitter ? Wine and sun ? Look no further ! We have the activity you need ! It all takes place in the Château de Loudenne, in the Médoc. A great name in the region, because the Château de Loudenne is the only Château in the Bordeaux region that has a private harbor, which hosts artists' exhibitions as well as wine tasting sessions! 
In addition to these unconventional services, the owners offer excursions in limousines to the heart of their vineyards! Wine tourism, but in a more sophisticated way ! You will be driven around in a limousine for an hour or so, with a commented and offered tasting !
But there are always the more classical activities
You are not too fond of thrills, unusual visits or incongruous moments of sharing ? Don't worry, wine tourism is like Levin in fact, there is something for everyone! And especially the more classic, calm and peaceful ones. You can always visit almost any estate, in any French wine region and enjoy yourself without going crazy. Taste the wines of the domain, visit the cellars of the Château, walk in the heart of the vineyards, talk with the owners or the operators, learn how to saber a sparkling wine or Champagne (with a real period sword, yes), spend a night in the calm and quiet of a vineyard full of character, creative workshops…
As you can see, no matter what you plan to do for your vacations, if you are interested in wine, you will find your happiness ! Whether you are alone, in couple, with friends or with children, the pleasure of the vine is shared today in many different ways. We are convinced that you will find your ideal vacation ! But precisely, what are the most beautiful domains to visit according to us ? Wine Palette presents you the selection of our teams !
The special Wine Palette selection of our favorite Domains & Wineries
Château Siran Margaux – Already mentioned above about unusual activities, Chateau Siran Margaux is an original property with many surprises including the panoramic terrace with a superb view of the Margaux appellation and the fallout shelter built to house the Chateau Siran wine library dating back to 1912.
For more than 40 years, Siran has offered visitors the opportunity to share in a family's passion for the art of creating great wines and tasting them. One of the few châteaux in the Médoc that can be visited every day from May to September and the rest of the year from Tuesday to Saturday, by appointment, Siran is worth a visit !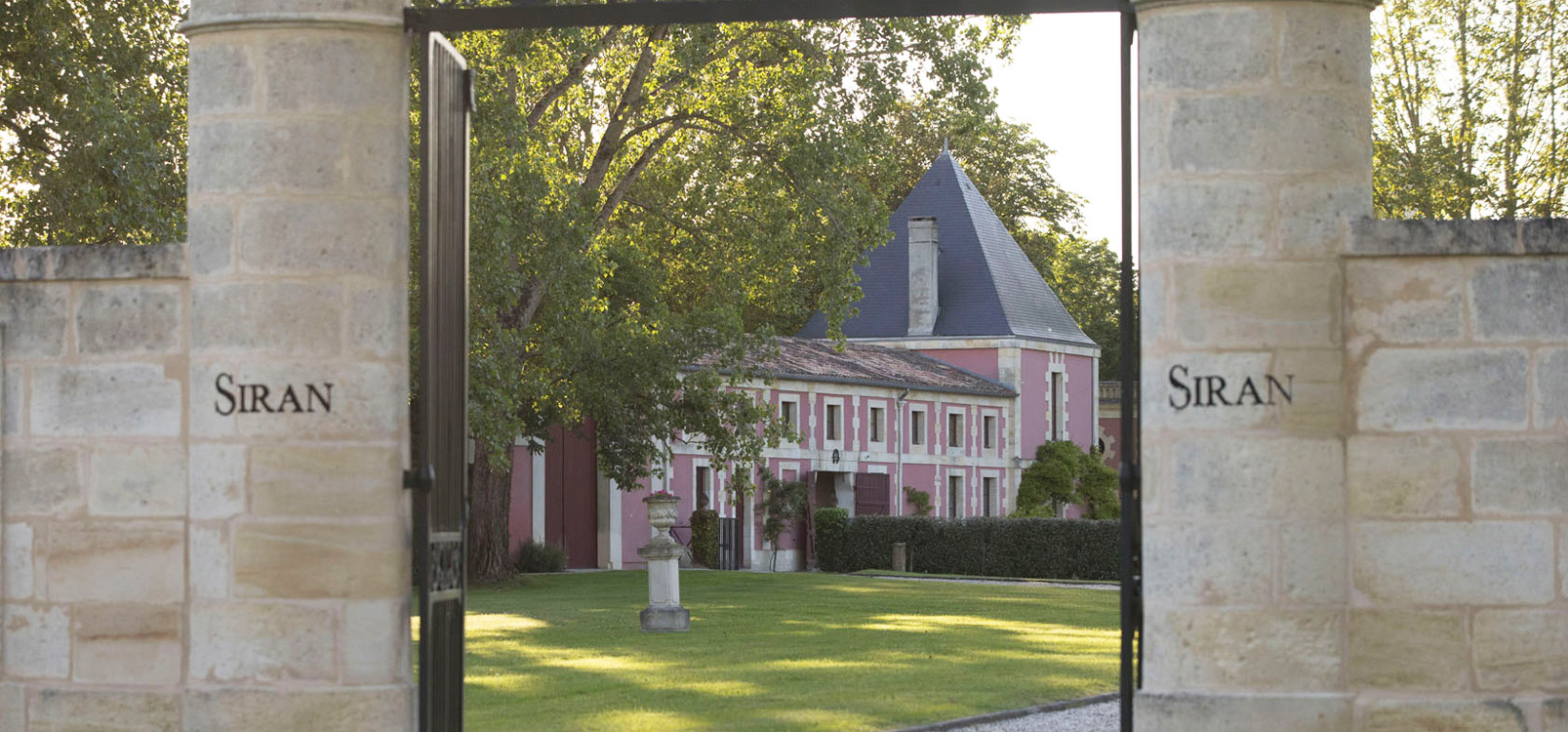 Domaine J. Mourat, Fiefs Vendéens – Located in the Loire Méridionale, the Domaine de la Famille Mourat covers more than 165 hectares. Kilometers of vineyards carefully cultivated and planted on the hillsides of the Mareuillais territory. Several types of activities are at your disposal. Already visited by our teams, this Domain is one of the most beautiful that we have seen ! 

LéoVille Poyferré of Domaines Cuvelier – Part of the Domaines Cuvelier Group, LéoVille Poyferré is one of the most prestigious estates in Bordeaux. A warm climate, resplendent vines, a warm welcome worthy of the people of the north from which the family that owns the Domaine originates. Le Pavillon de LéoVille offers you several visit packages that are sure to suit you: a "panoramic" visit, an "enlightened" tour and a "symphonic" adventure ! I don't know about you, but we're excited about it.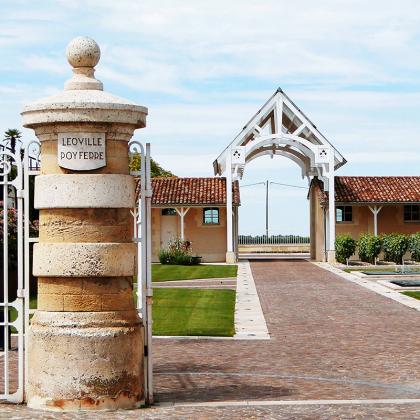 So, what is the program for your next vacation in France ?
Sources :
https://www.cuvelier-fauvarque.fr/ 
https://www.leoville-poyferre.fr/ 
https://www.winetourbooking.com/